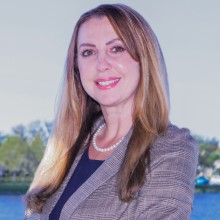 Natalia Izquierdo | Realtor®

888-668-8283

Dalton Wade Real Estate Group – St. Petersburg
Station House 260 1st Avenue South, 5th floor
St. Petersburg, FL 33701
Brought up and raised in Moscow, Russia, Natalia came to America as a student. In 2003 Natalia earned a Bachelor's degree from Arkansas Tech University, and pursued a career that allowed her to travel across the United States, ultimately settling in Florida in 2008, calling Florida her ' forever home in paradise'!
Today, as a loving wife and a proud mother to three beautiful children, Natalia truly understands the blissful feeling of being able to call a house a 'home'. Her undying passion for real estate led Natalia to her first real estate investment in Europe when she was only 24 years old and only grew from there. In addition to being your agent, Natalia currently serves as a landlord and a property manager of her investments. Boasting long-term rentals and zero vacancy rates as a landlord, she has been living her dream, providing people with residential properties that they can call 'home'.
As your realtor, in partnership with the most outstanding real estate brand, Natalia is dedicated to planning every stage of your real estate investing, buying or selling experience to perfection. Her excellent communication skills and negotiation skills, attention to details, and extensive knowledge about the industry makes Natalia your ideal partner in fulfilling your aspirations. Contact Natalia today.